This October, as part of Co-Creating Public Space, and throughout Black History Month in the UK, John Hansard Gallery, Black History Month South, and Southampton Black Archives are partnering with Kingston Creative, Jamaica to celebrate and commemorate the Windrush generation and give voice to the subsequent Windrush scandal.
Windrush Portraits is a transatlantic artistic collaboration with communities in both Kingston, Jamaica and Southampton, UK. Beginning in February 2023, artists Mary Evans (based in UK) and Michael Elliott (based in Jamaica) presented iconic artworks that highlight the legacy of the Windrush generation and migration on print and digital billboards across Jamaica during Black History Month in the Caribbean and USA.
The artists subsequently undertook exchange visits to Southampton and Kingston to meet Caribbean communities in Southampton and Windrush returnees in Kingston. These visits resulted in new artworks by both Mary and Michael, created in collaboration with communities, that are now on show during Black History Month UK on city centre shop units and bus stops in Southampton, and on the front of John Hansard Gallery.
For this project, Michael Elliott's and Mary Evans' artworks will explore the personal, political, social and post-colonial legacy of the Empire Windrush and the Windrush Generation of West Indian migrants (as well as their descendants) who arrived in the UK from 1948–1971. Under the UK government's 'hostile environment' policy from 2009, some members of the Windrush Generation and their families were wrongfully persecuted and deported from the UK and returned to Jamaica. These returnees often lost their homes, livelihoods, and health because of the UK government's actions, that has become known as the Windrush scandal.
Windrush Portraits developed through conversations with Caribbean communities in Kingston, Jamaica and Southampton, UK to celebrate the individuals, highlight the injustices, and commemorate the important contribution of the Windrush Generation to the UK's recovery in the post-war period.
During 2023, Mary Evans delivered creative workshops with members of the Windrush generation in Southampton and their family and friends. During these sessions, Evans took side-profile photographs of the participants which she turned into silhouettes, recalling the British tradition of silhouette portraits. These silhouettes can now be seen in a new work on the front of John Hansard Gallery. Meanwhile, a new piece by Michael Elliott, The Calling, continues his socio-political series on Windrush.
Windrush Portraits has been delivered in partnership with Kingston Creative and has been supported by iPrint, Jamaica and ROK Hotel Kingston, Jamaica. 
The project is part of the programme Co-Creating Public Space, led by John Hansard Gallery, with support from Arts Council England, Southampton City Council, GO! Southampton and University of Southampton.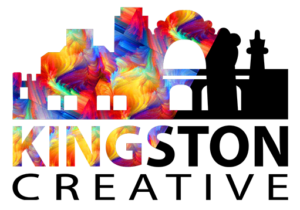 Michael Elliott, Windrush Portraits, Southampton, 2023. Courtesy the artist. Photo: Nosa Malcolm
Back to top