Come and celebrate the legacy of the Windrush generation in Southampton.
Wednesday 23 August, 10.30am–12.30pm
Woolston Library (Centenary Quay, Victoria Road)
(Drop in, family-friendly workshops at 10.45–11.15am & 11.45am–12.15pm)
Thursday 24 August, 10.30am–12pm
Shirley Library (Shirley High St, SO15 5LL)
(Drop in, family-friendly workshops at 10.30–11am & 11.30am–12pm)
Thursday 24 August, 2pm-4pm
Bitterne Library (Bitterne Road East, SO18 5EG)
(Drop in, family-friendly workshops at 2.15pm-2.45pm & 3.15pm-3.45pm)
Wednesday 30 August, 11am–3pm
Priory Road Hall (65 Priory Road, St Denys, SO17 2PQ)
(Family-friendly workshops at 11.30am–12pm, 1.30–2pm & 2.30–3pm)
Book here
Thursday 31 August, 1pm–5pm
Lordshill Library (Lordshill District Centre, SO16 8HY)
(Drop in, family-friendly workshops at 1.30–2pm, 2.30–3pm & 3.30–4pm)
In 2021-22, Southampton City Council invited oral historian Padmini Broomfield to record histories from members of the local community.
To mark Windrush 75, storytellers Amanda Ray Epe and Wendy Shearer will bring these oral histories to life by creating new short stories inspired by real life experiences. They will be delivering family-friendly performances and workshops at 5 different venues throughout August.
Amanda Ray Epe BEM is a storyteller and has created books and films independently and including partnerships with the BBC and the RAF Museum.
Wendy Shearer is a professional storyteller, imagination weaver and published author who brings stories to life from her African and Caribbean heritage.
Photographic portraits, taken by Nosa Malcolm, of the people whose stories will be shared this summer will also be on display at Woolston, Bitterne and Lordshill libraries as well as Priory Road Church.
A partnership project between Black Archives South, Southampton Cultural Services and John Hansard Gallery.
Part of Windrush Legacy Project, with support from the UK Government's Windrush Day Grant Scheme 2023.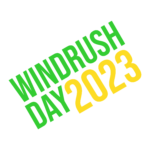 Back to top