Hetain Patel, Trinity, film still, 2021. Commissioned by John Hansard Gallery, New Art Exchange, Sadler's Wells, Gulbenkian and Motwani Jadeja Family Foundation. Supported by Hayward Gallery Touring for British Art Show 9 and Arts Council England
John Hansard Gallery in partnership with New Art Exchange is pleased to present Trinity, the largest solo exhibition to date by the highly acclaimed artist Hetain Patel.
Trinity is also the title for an ambitious new film by Patel, the final part of a film trilogy being premiered at John Hansard Gallery. Working with dance, martial arts and sign language collaborators, and with a specially composed score, Trinity represents Hetain Patel's most significant film so far.
Alongside Trinity, John Hansard Gallery will also show the first two films from the trilogy: Don't Look at the Finger (2017) and The Jump (2015), bringing together the different facets of the rich filmic world the artist has been creating over the past five years. The exhibition will also feature a number of related new sculptural works, which incorporate costumes, and action figures of the films' characters, as well as a film merchandise 'Gift Shop'.
Patel's new film Trinity, continues his exploration of language and physical communication, centring on the discovery of a martial language that once united humanity. Interspersed with visual references from his life – both his artistic practice and his Indian cultural heritage, the film features two women – a young British Indian woman (played by Vidya Patel) and a young Deaf garage worker (played by Raffie Julien) – engaging in a fight, creating a unique physical language weaving together martial arts and sign language, created with ongoing collaborators, the fight choreographer Chirag Lukha and Deaf artist and writer Louise Stern. A coming of age story intermingled with supernatural references, Trinity transforms traditional Indian practices with a recognisably Hollywood approach, employing an epic soundtrack and fight choreography. The film explores the representation of the British Indian experience on screen, emphasising the female voice, intergenerational conflict and the truth that our bodies hold beyond language, foregrounding a strong sense of hope.
The Jump (2015) connects the widely recognised fantasy of Hollywood action and superhero films with the domestic setting of Patel's own British Indian family in the UK. Featuring Patel's homemade movie replica Spider-Man costume, this two sided video installation shows two different perspectives of the same super slow motion jumping action, so much so that it is almost like a moving photograph. Featuring seventeen of Patel's family members, The Jump is shot in Patel's grandmother's home, the house where he and his immigrant relatives lived at various points since 1967, and where his late grandmother stayed until she died in 2017.
Utilising the characteristic humour that Patel is known for, perfectly showcasing the struggle between responsibility and identity, the semi-autobiographical film installation creates an immersive cinematic experience that is both playful and sinister.
Don't Look at the Finger (2017) is an exploration of the highly-styled genre conventions of Hong Kong martial arts films and how they have permeated mainstream films via the directors of Quentin Tarantino and Ang Lee, and blockbuster films like The Matrix (1999, The Wachowskis). It is also a reminder of how some of the highly specific signature symbols of historical cultural traditions and languages can become interestingly blurred and entangled in today's hybrid and eclectic visual landscape. The work is deeply influenced by Kung Fu master Bruce Lee, who in a memorable scene from Enter the Dragon (1973, dir. Robert Clouse), warns the viewer to never be distracted by a finger that is pointing at something, just in case we miss what it is actually pointing at.
Don't Look at the Finger was originally commissioned by Film and Video Umbrella with Manchester Art Gallery, QUAD and supported by the Jerwood Choreographic Research Fund. The Jump was originally commissioned by Wood Street Galleries, Pittsburgh, USA. The production of Trinity has been supported by Arts Council England, John Hansard Gallery, New Art Exchange, Sadler's Wells, Gulbenkian, Motwani Jadeja Family Foundation, British Art Show 9, and produced by Tilt Films.
Trinity is presented in partnership with New Art Exchange, Nottingham, and will be shown there from 29 January–24 April 2022.
About Hetain Patel
Hetain Patel is a visual artist and performance maker. He is interested in connecting marginalised identities with the mainstream in an effort to destabilise notions of authenticity and promote personal freedom. Working collaboratively with artists across disciplines, and with family members and non-professionals, Patel enjoys working across multiple languages, culturally and artistically.
Patel is represented by Chatterjee & Lal, Mumbai, is a New Wave Associate at Sadler's Wells, London, is a Patron of QUAD, Derby, Patron of Film London's Jarman Award, sits on the Artist Council for a-n, and is a trustee of Liverpool Biennial. He is the winner of the Film London Jarman Award, 2019, Kino Der Kunst Festival's Best International Film 2020, and has been selected to participate in British Art Show 9, touring through 2021–22.
In partnership with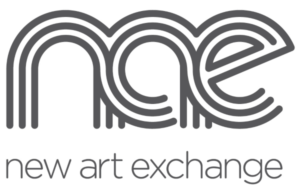 Hetain Patel, The Jump (2015), installation image from Trinity, 2021. Commissioned by Wood Street Galleries, Pittsburgh USA. Photo: Thierry Bal
Back to top