Hetain Patel
Trinity
3 August to 30 October 2021
John Hansard Gallery is proud to present Trinity, the largest solo exhibition to date by artist Hetain Patel. Developed over a number of years, this ambitious body of work brings together Patel's multiple interests and varied practice, often with collaboration at its core.
Trinity focuses on the idea of connecting marginalised identities within the mainstream. Starting from an autobiographical stance, Patel uses humour and the languages of popular culture to highlight the familiar within the exotic, and recognition within the unknown. Patel has worked extensively with performers, creative partners, fabricators and specialists to develop the films and sculptural works within this exhibition.
At the heart of this exhibition is Patel's film trilogy, including the world premiere of the new and final part, Trinity (2021) that also gives the exhibition its title. Working with dance, martial arts and sign language collaborators, and with an especially composed score, Trinity represents Patel's most significant and developed film work so far.
Alongside the film Trinity, John Hansard Gallery will also present the first two highly acclaimed films from the trilogy: Don't Look at the Finger (2017) and The Jump (2015). The complete trilogy brings together the different facets of the rich filmic world the artist has been creating over the past six years. The exhibition will also feature a number of new sculptural works related to the trilogy, incorporating costumes and action figures from the films, as well as a film merchandise 'Gift Shop'.
Taking inspiration from Trinity, John Hansard Gallery's Engagement and Learning team are organising a series of events and activities and will be sharing these over the coming weeks. Please see our website for the latest details.
Trinity is presented in partnership with New Art Exchange, Nottingham, and will subsequently be shown there from 29 January to 24 April 2022.
Gallery 1
The Jump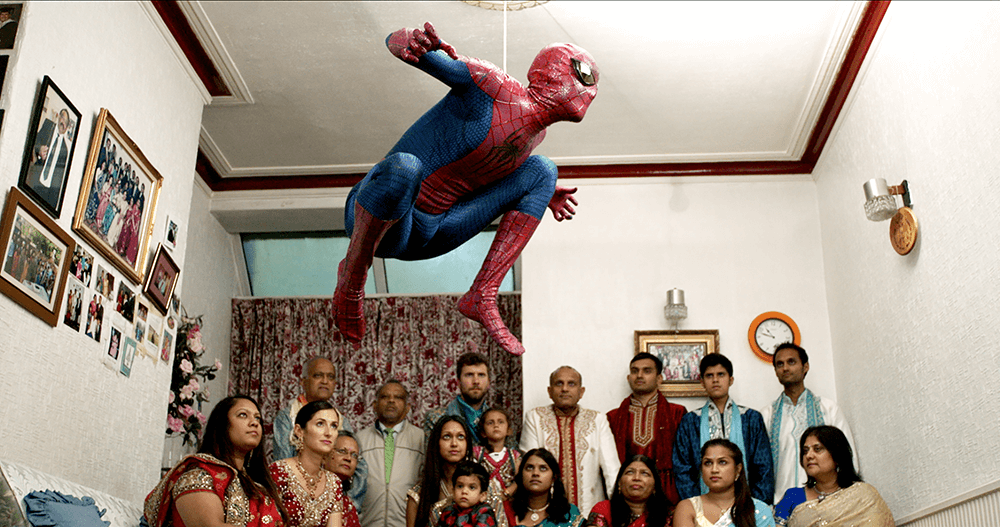 The Jump (2015) brings together elements of widely recognised Hollywood action and superhero films within the domestic setting of Hetain Patel's grandmother's home, which has housed the artist and all of his relatives at various stages since 1967.
Experienced as a 2-sided video installation, The Jump presents Patel leaping off the sofa in his grandmother's living room as his extended family looks on. His family are wearing formal Indian clothes, whilst he wears a homemade replica Spider-Man costume. According to Patel, this was the first sofa he had ever jumped off as a child whilst pretending to be the superhero. The Jump reflects on our collective desire for shared experiences and role models, but also his family's great leap, in reference to their migration to the UK.
The semi-autobiographical film is shot in slow motion, which is at times so slow that The Jump could be considered as a moving photograph.
The film was shot to imitate the production values of a big budget action movie and the original orchestral soundtrack by Patel's long term collaborator, composer and multi-instrumentalist, Amy May, takes the film further into the realm of epic cinema.
The Jump was commissioned by Wood Street Galleries, Pittsburgh, USA.
A FILM BY HETAIN PATEL
Featuring: Pravin Patel, Leela Patel, Hetain Patel, Eva Martinez-Patel, Julie Perry, Oliver Perry, Lola Perry, Raphael Perry, Pritum Patel, Jayanti Patel, Ila Patel, Ila Patel, Dharmesh Patel, Kripa Patel, Ashok Patel, Beena Patel, Anish Patel, Leena Patel
Creative Team
Cinematographer: Sam St John
Editor: Oliver Parker
Colourist: Will Read Composer: Amy May
Music Production: Lloyd Williams
Camera Equipment: Quench Studios
Gaffer & Lights: Drop City
Electrician: Daniel Tunstall
Stills photography: Pedro Labanca

Additional Thanks: Ian Duncan

Filmed on location: Patel Family Home, Bolton, UK
Gallery 2
Don't Look at the Finger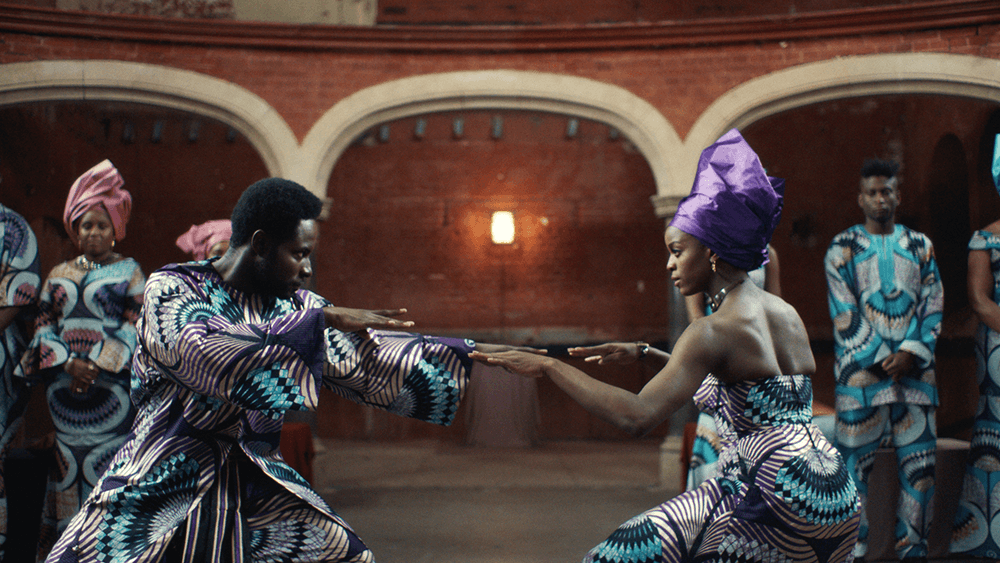 Don't Look at the Finger (2017) features two main protagonists and a small group of companions, who have gathered in a church for a wedding ceremony. Through rituals, combat and signed languages, meaningful human communication is being sought, where each movement enhances the couples' union.
The film is a reflection on how symbols of historical cultural traditions and languages can become interspersed within today's diverse audio and visual landscape. Don't Look at the Finger also references the history and legacy of Hong Kong martial arts films, in particular Enter the Dragon (1973, dir. Robert Clouse). In a memorable scene, martial arts legend Bruce Lee warns us not to be distracted by a pointing finger, just in case we miss where we should actually be looking. Similarly, Patel is seemingly asking us to look in one direction, whilst the movements of the couple suggest that the real action is taking place elsewhere.
Don't Look at the Finger creates a fluid relationship between reality and fiction. The film embraces the UK, North America, South and East Asia, and West Africa as its culturally specific reference points, contrasted through the specially designed costumes, choreography, language and music that question their own origins.
Don't Look at the Finger was commissioned by Film and Video Umbrella, Manchester Art Gallery and QUAD. Supported by Arts Council England and Jerwood Choreographic Research Fund.
A FILM BY HETAIN PATEL
Creative Team
Executive Producer: Steven Bode, FVU
Producer: Sophie Neave
Production Supervisor: Susanna Chisholm, FVU
Director of Photographer: Carlos Catalan
Costume Designer: Holly Waddington

Fight Choreographer: Chirag Lukha
Sign Language Consultant: Louise Stern
Editor: Oliver Parker
Music: Amy May

Featuring: Victoria Shulungu,
Freddie Opoku-Addaie

Supporting Cast: Zoe Charlery, Vilma Jackson, Carol Lake, Claudette Little-Herron, Kadeem Oak, Thomas Owoo, Alicia Smikle-Little, Jessica Shulungu

Production Designer: Beck Rainford
Hair & Make-up: Jessica Shulungu
Costume Cutter & Maker: Kate Whitehead

1st Assistant Director: Chris Malin
2nd Assistant Director: Sammy Wong
3rd Assistant Director: Magda Kozak
Production Assistant: Polly Wright, FVU

1st Assistant Camera: Sebastian Marczewki
2nd Assistant Camera: Chai Rolfe
Digital Image Technician: Jordan Wallace
Steadicam Operator: Charlie Rizek
Grips: Brett Lamerton, Myles Soldenhoff
Gaffer: Antti Janhunen
Spark: Jack Knot
Additional Spark: Mike Johnson

Props Dressing: Tom Savery
Standby: Aimee Alicia Meek

Costume Assistant: Rosie Stoward
Additional Costume Makers: Elizabeth Brown, Florence Emiola

American Sign Language Interpreter: Helsa Borinstein
Additional Sign Language Interpreters: Sophie Allen, Brett Best, Anna Kitson, Karen Newby, Daniel Roberts
Stills Photographer: Nick Mathews
Post Production
Digital Intermediate: CHEAT
Colourist: Joseph Bicknell
Post Producer: Chloe Saunders
Strings, Vocals & Composition: Amy May
Percussion: Mathew Whittington, Real Percussion
Cello & Mixing: Ben Trigg
Flute: Hannah Lawrence
Tuvan Singing: From live performance by Kaigal-Ool Kim-Oolovich Khovalyg

Sound by SoundNode
Location Sound Recordist: David Crane
Supervising Sound Editor: Martin Schulz
Dubbing Mixers: Daniel Jaramillo, Martin Schulz

Foley by Clap Studios, Medellin
Foley Artist: Daniel Giraldo
Foley Recordist: Sebastian Alzate Lopez
Foley Editor: Alexander Aguilar

Insurance supplied by Integro Entertainment
Production Accountant: Sophie Luard, FVU

Camera Equipment supplied by ARRI Rental
Lighting Equipment supplied by Panalux

Sound Equipment supplied by SoundNode
Location Catering provided by CGI Catering
Location provided by Stone Nest
Rehearsal Studios provided by Sadler's Well and ResCen

Special Thanks To: Bille Achilleos, Erik Eno Anderson, Chris Bannerman, Gema Beasley, Anna Billington, Sophie Bugeaud, Rob Garvie, Mike Jones, Pei Li Ng, Eva Martinez, Hannah Myers, Kate Pryor-Williams, Coraly Salamanca Stern, Inna Schorr, Richard Williamson, Students of Middlesex University

Filmed on location in London, United Kingdom
Gallery 3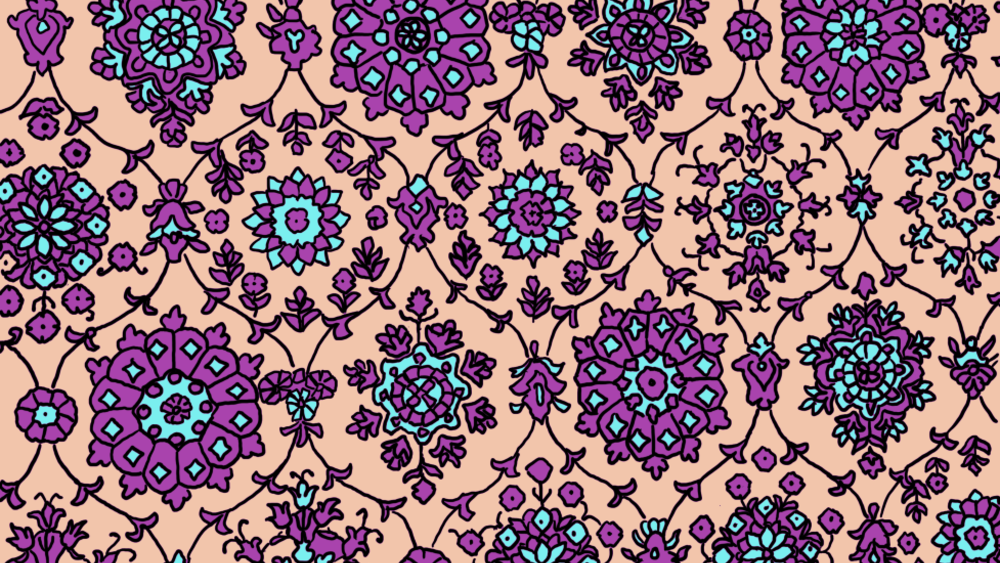 "I really want visitors to the exhibition to feel they are stepping into the kind of 'at the movies' experience that I feel is still missing from mainstream society: the experience of being taken away by a trilogy of epic cinematic films, featuring complex culturally marginalised characters. Then I invite you to go behind the scenes, in a 'making of' experience usually only afforded by big budgets films. Here you can get up close to the intricate costumes and hear from the collaborators, before finally 'exiting through the gift shop', where the marginalised worlds of the films unapologetically occupy the mainstream cultural space they are typically excluded from, intentionally taking physical, economic and political space via film posters, action figures and other merchandise. In a world where we as marginalised people, are typically given the soap drama, Eastenders treatment, rather than the big movie Batman treatment, we have to create our own."
Hetain Patel


This gallery features more of Hetain Patel's new figurative sculptural works and a mock 'Gift Shop'. Some of the original costumes from the film trilogy are presented alongside action figure prototypes of the leading characters. Using the visual language of Hollywood merchandising, these artworks expand upon the ideas and visual motifs from the films. Through his works, Patel combines the personal and autobiographical with global issues of marginalisation and representation. The pattern from his grandmother's living room carpet that appears in the trilogy, has been incorporated onto the bespoke costumes and expanded to an epic scale on the gallery's exterior windows.
Postcards, limited edition tote bags, and copies of the film posters are all available to buy from the JHG Shop downstairs. The Hetain Patel clothes designs shown here are also available to buy through the following website: www.contrado.co.uk/stores/baas-house-designs
Barker-Mill Gallery
Trinity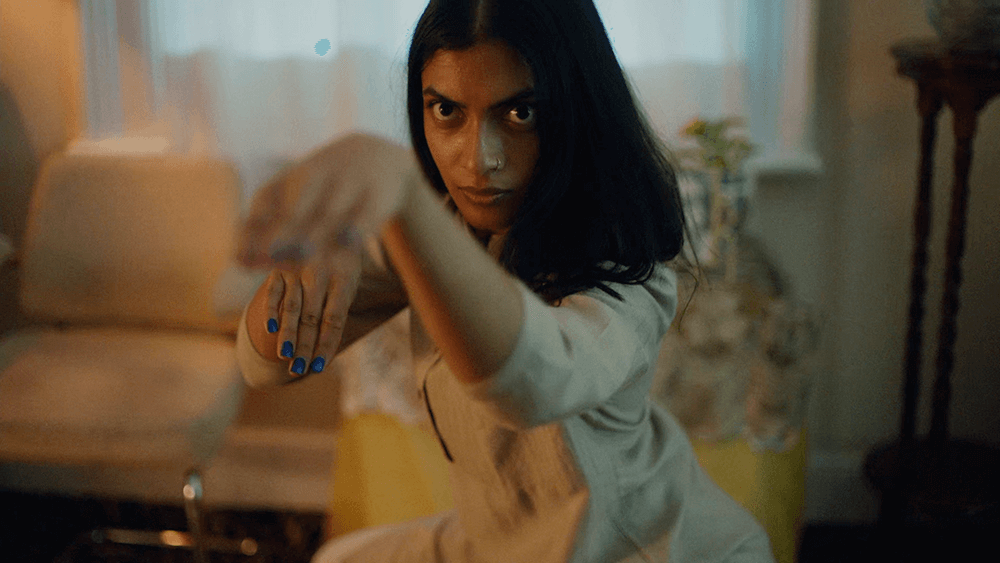 Hetain Patel's new film Trinity (2021), centres on the discovery of an ancient fictional language that is a combination of signed languages and Kung-Fu. In this imaginary world, it is the intersecting lives of three women that lead to this discovery – Mina, a young British Indian woman, her mother, and Amy, a young Deaf garage worker.
In Patel's fictional world, this corporal language that once united humanity is unintentionally rediscovered during the protagonists' attempt to communicate with one another. As a consequence, their encounter sparks a 'body swap', enabling the pair to experience themselves in multiple avatars, as different genders, ethnicities, and body types. This body swapping is both a physical language of empathy, and a way to embody their ancestors – with the film proposing an idea of ancestry that expands beyond the confines of ethnicity.
Trinity is interspersed with visual references from both Patel's artistic practice and his Indian cultural heritage to explore the representation of the British Indian experience on screen. The women's interaction emphasises the female voice, intergenerational conflict and the notion that our bodies prevail beyond language, foregrounding a strong sense of hope. Intermingled with supernatural references, Trinity transforms traditional Indian practices through a recognisably Hollywood lens, employing a cinematic soundtrack and fight choreography.
Trinity creates space for cross-cultural costume design, created by Sarah Mercade, original music composed by Amy May, and dynamic choreography created with fight choreographer Chirag Lukha and Deaf artist and writer Louise Stern.
The production of Trinity has been supported by Arts Council England, John Hansard Gallery, New Art Exchange, Sadler's Wells, Gulbenkian, Motwani Jadeja Family Foundation, British Art Show 9, and produced by Tilt Films.
A FILM BY HETAIN PATEL
Written by Hetain Patel & In-Sook Chappell

Creative Team
Producer: Sophie Neave
Director of Photography: Lorena Pagès
Editor: Oliver Parker
Music by: Amy May
Production Designer: Bobbie Cousins
Costume Designer: Sarah Mercade

Featuring: Vidya Patel – Mina,
Sudha Bhuchar – Samanya (mum),
Raffie Julien – Amy

The Ancestors: Saju Hari, Iris Chan, Melanie Ingram, Jaki Wilford
Roshan: Nirmal Chohan

Hair & Make-up Designer: Cosima Crowley-Roth
Sound Recordist: Jack Cook
Choreographer: Chirag Lukha
Sign Language & Story Consultant: Louise Stern
Ancestors Casting: Eva Martinez

1st Assistant Director: Carlotta Beck Peccoz
Production Manager: Carmen de Witt
Production Assistant: Anna Argiros
3rd Assistant Director: Sunjna Mullick Floor Runner: Zarife Sevin
Additional Floor Runners: Gwennaëlle Counson, Amy Madden
1st Assistant Camera: Riaz Ahmed, Rushil Choudhary, Chris Steel
2nd Assistant Camera: Joe Salkey

Digital Image Technicians: Ellie C Bright, Gabriel Tineo
Camera Trainees: Jake Phillips, Shayne Thomas-Gordon
Steadicam Operator: James Thomas
Gaffer: Krunal Saadrani
Spark: Dimitrios Mavrogiannis
Spark Dailies: Rob Gifford, Johnjoe Besagni
Art Director: Sofia Sacomani
Construction: Jasper Levine
Graphics: Maria Sacomani
Art Department Assistants: Hugo Harris, Phin Shaughnessy-Symons
Costume Assistant: Anisha Fields
Makeup & Hair Assistant: Amber Hoskins, Amy Luthwood-Graham
Sign Language Interpreter: Jade Odle
Covid-19 Supervisor: Wojciech Czarkowki
Stills Photographer & BTS Videographer: Gabriel Tineo

Post Production
Colour and Finishing Services: CHEAT Colourist: Jack McGinty
VFX Artist: Tim Mellem
Violin: Charlie Brown
Viola: Amy May
Cello: Ben Trigg
Vocals: Leela Patel, Verity Quade, Suzy Robinson, Amy May

Sound mixed at SoundNode
Sound Designer: Martin Schulz
Sound Editor: Daniel Jaramillo
Re-Recording Mixer: David Crane

Foley by Clap Studios
Foley Artist: Sebastián Vásquez Garzón
Foley Recordist: Alexander Aguilar Castro
Foley Editor: Juan Pablo Saldarriaga Alaguna
Foley Supervisor: Daniel Jaramillo Gutierrez
Studio Coordinator: Sebastián Alzate López
Additional Music & Mixing: Matt Whittington

Camera Equipment supplied by FAVA Rental
Lighting Equipment supplied by SHL Film & TV Lighting
Location Catering provided by CGI Catering
Rehearsal Studios provided by Sadler's Wells
Insurance by Tysers

With Special Thanks to: Eva Martinez, Louise Tanoto, Laura Patay, Toke Broni Strandby, Julie Perry, Lolo Perry, Holly Waddington, Gwen Van Spijk, Cambridge Junction, Thomas Owoo, Callina Pearson, Queens Crescent Community Centre, Jessica Feely & Gustav

Filmed on location in Kentish Town and Hackney, London.

In memory of:
Kunverben Patel (Mamai) 1918–2014
Lakshmiben Patel (Baa) 1928–2017

A TILT FILMS PRODUCTION
About the Artist
Hetain Patel (b. 1980, Bolton) is an artist whose practice explores the subtle and often humorous complexities of identity formation. Since 2004, Patel's works have been shown nationally and internationally within institutions such as Tate Britain, London, and the Ullens Centre for Contemporary Art, Beijing. John Hansard Gallery has a long history of working with Patel, having first worked with him in partnership with Art Asia in 2012, and again as part of JHG Sampler in 2018.
Patel's practice is varied and wide-reaching, ranging from performing Bruce Lee impersonations at the Royal Opera House, completing performance commissions for Tate Modern and Southbank Centre, and making a working class Transformer robot from an old Ford Fiesta car with his dad (shown at JHG Sampler in 2018). Patel toured his live performance, TEN, internationally and was invited to do a TED Talk which has since been viewed globally over two million times.
Patel's film Don't Look at the Finger has recently been purchased by TATE and the British Council. He is a Sadler's Wells New Wave Associate Artist, and winner of the 2019 Film London Jarman Award. Patel is also part of British Art Show 9 which is touring the UK throughout 2021–22.
Behind the Scenes Hetain Patel, Trinity, 2021